Education and Empowerment
Financial Empowerment is a Key to Success
Financial literacy is a skill that can transform lives and communities. First Horizon Bank invests in programs that teach financial education allowing individuals and small businesses to create solid foundations, achieve economic dignity and secure their financial futures.
First Horizon Bank partners with Operation HOPE to offer free financial empowerment workshops at HOPE Inside locations within our financial centers. The workshops help participants improve their credit scores and financial literacy.
2018 Financial Literacy Impacts
Over 8,000 new clients served in 2018 across 21 HOPE Inside locations
1,360 clients still actively enrolled in services
39-point average increase to client credit scores over an average of 5.4 months enrollment
84 new small businesses created
Participation is free and open to anyone who is interested in learning:
How to improve a credit score
Budget techniques to get the most out of limited income
Ways to pay off debt and use credit wisely
Learn more about the workshops in your area.
---
Atina Labs, LLC - The Doors are Open
Charles D. Hill was encouraged by his wife to launch a business after he retired from Memphis Light Gas & Water after 20 years. As he began researching small businesses, he located the Operation HOPE Entrepreneurial Training Program, a partnership between Operation HOPE, COGIC Urban Initiatives, and First Horizon Bank. Hill entered the 12-week program in February of 2018.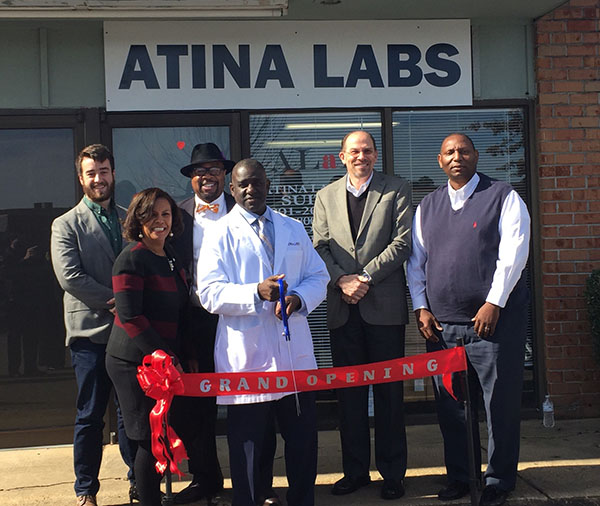 (Left to Right) Bryce Stout, Entrepreneur Development Coordinator, Advance Memphis; Trudy Morrison, Operation HOPE Financial Well-being Coach; Robie Williams, President, Black Business Association; Charles Hill, President & CEO of Atina Labs; Keith Turbett, Community Development Manager First Horizon Bank; Steve Swain, Director of Operation Hope Program for First Horizon Bank
Hill recently opened the doors to Atina Labs. Hill's goal is for Atina Labs to be the leader in the substance abuse screening industry in the Mid-South area. View Mr. Hill's inspiring story.