Hands-on in the Community
Supporting our communities has been part of how we define our company since the 1800's, when a lone bookkeeper, Charles Q. Harris, single-handedly kept our bank open to serve clients and distribute relief funds during the Yellow Fever epidemic in Memphis.
We renew that tradition each day by encouraging associates to invest in our communities by donating time, talent and professional expertise to nonprofit organizations. Our volunteer program, Here for Good, emphasizes our commitment to strengthening our communities, as we have for more than 150 years.
Additionally, we offer leadership grants and matching gifts through the First Horizon Foundation to further support organizations that are important to our associates.
To learn more about our corporate volunteer program or request to host a project, please contact CorporateCommunications@firsthorizon.com.
---
Second Harvest
Hunger has no boundaries. Hunger impacts the lives of 1 in 8 Americans. Real people, from all walks of life, struggle with hunger. It does not matter if you live in a suburban, rural or urban setting. Second Harvest of Middle Tennessee works diligently to feed the hungry and reduce food insecurity in the community.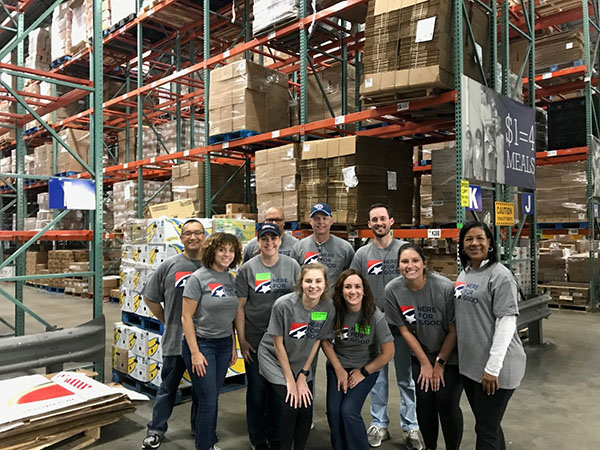 First Horizon Bank volunteers join Second Harvest of Middle Tennessee at a warehouse during Hunger Action Month to sort food items.
First Horizon Bank volunteers work with Second Harvest to unload, sort and distribute food items throughout the year. During Hunger Action Month in September, our associates served in the warehouse sorting over 5,000 pounds of food. Over the summer, our Commercial and Business Banking team distributed food to 200 families at a mobile food pantry. Our associates are dedicated to reducing hunger and understand the value of their service in tackling this critical community issue.
---
Here for Good: Associate Volunteer Profile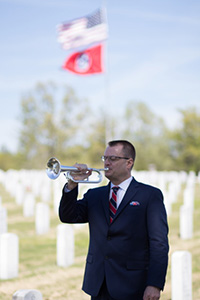 David D., Bugles Across America
Senior Commercial Credit Review Officer, David D., volunteers more than 250 hours annually with Bugles Across America. David, who had no previous musical background, was inspired to learn to sound Taps as a way to provide proper closure to grieving families who lost their dedicated veterans.
Though most of his volunteer work with the organization has been recruiting solid musicians to perform the live rendering of Taps in the Memphis and Mid-South area, he has participated in several funeral services.
"I feel it is important to honor all veterans with Live Taps," David said. "I am a United States Air Force veteran myself. All veterans wrote a blank check to our nation for an amount up to and including his or her life. Knowing that I help families find closure with the rendering of Live Taps as the final salute to their loved one's service to our great nation."