Reinvesting and Revitalizing Communities
First Horizon Bank is committed to serving consumers, businesses and communities in geographic markets across our footprint. As a company and as neighbors, we share the hopes of our communities to provide better places to live and work.
In the most recent Community Reinvestment Act regulatory examination, First Horizon Bank was rated "satisfactory" by the Federal Reserve Bank of St. Louis. First Horizon received an "outstanding" on the Investment Test and a "high satisfactory" on the Lending and Service Tests of the CRA examination.
To see our investments in action visit Our Commitment to the Community
To request copy of CRA Public File please email CRA@firsthorizon.com.
---
Helping Communities Achieve Dream of Homeownership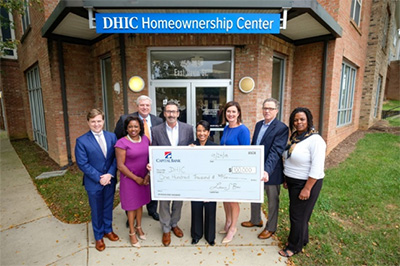 First Horizon Bank is committed to building better communities by supporting affordable housing and homeownership initiatives. Our Community Development Fund, established in 2016, has contributed more than $7 million to strengthen neighborhoods and serve those most in need.
In 2018, we contributed approximately $700,000 in grants in support of Affordable Housing including homebuyer education, down payment assistance, shelters, and financing single family housing and multi-family units.
In North Carolina, we contributed $100,000 to DHIC, in support of their efforts to create more affordable housing opportunities for seniors, families and individuals. The grant will be used to expand their down payment assistance loan program, which provides resources to families to help them overcome the financial barriers involved with the first-time home buying process.