Philanthropic Impact
For more than 150 years, we have strengthened communities by collaborating with nonprofit, community development and civic partners to meet community needs, encourage growth and support economic sustainability.
Our company established a private charitable foundation in 1993 to support nonprofit organizations in the communities we serve. Since its inception, our Foundation has donated more than $90 million to meet community needs.
The First Horizon Foundation operates as First Tennessee Foundation in Tennessee and Texas and as Capital Bank Foundation in Florida, North Carolina, South Carolina and Virginia communities.
Our Foundation targets investments towards these vital signs of a strong community:
Arts & Culture: Emphasizing excellence and enrichment in the arts
Education & Leadership: Educating and developing the next generation of leaders
Environment: Promoting a more sustainable future
Financial Literacy: Investing in the financial future
We leverage the First Tennessee Community Development Fund, First Tennessee Foundation, First Horizon Housing Corp. and First Horizon New Markets Corp. along with other creative solutions to foster affordable housing, services for underserved communities, community revitalization, small business economic development and financial literacy.
Over the past 25 years, more than $90 million in grants has been contributed to community partners. To learn more about the annual grants process and how to apply visit First Tennessee Foundation.
---
Community Partner Highlights
United Way
Our long-standing support for United Way helps address critical community needs by partnering with agencies to provide people with food, shelter and other essential services and resources. Each year we organize local United Way campaigns, and with the help of our generous associates and the First Tennessee Foundation, nearly $2 million is collectively donated to United Way.
---
Junior Achievement
As a financial institution, financial literacy is dear to our hearts and expertise. Junior Achievement's programs uniquely provide students with the opportunity to understand economics and business concepts. Through our support and partnership, mini-banks in Junior Achievement model cities can simulate earning a living and budgeting to prepare them for the real world.
---
ALSAC/St. Jude Children's Research Hospital
First Horizon Bank is proud of our long-standing partnership with ALSAC/St. Jude in our headquartered city of Memphis, Tennessee. St. Jude is a jewel in Memphis that has saved countless lives and given families and children hope through diligent treatment and research. Our company's partnership and support extends beyond Memphis, but also in our other markets such as Nashville, Knoxville and across our regional footprint.
As downtown Memphis neighbors, corporate partners and supporters of the mission and work of this hospital, we're proud of the small role we play in helping St. Jude find cures and provide treatment to save the lives of children.
---
HopeWorks
For the past 30 years, HopeWorks has offered jobs, training and support to under-resourced and previously incarcerated individuals in Memphis, Tennessee. With a grant from the First Tennessee Foundation, HopeWorks secured a new 12,000-square-foot facility, doubling their classroom size.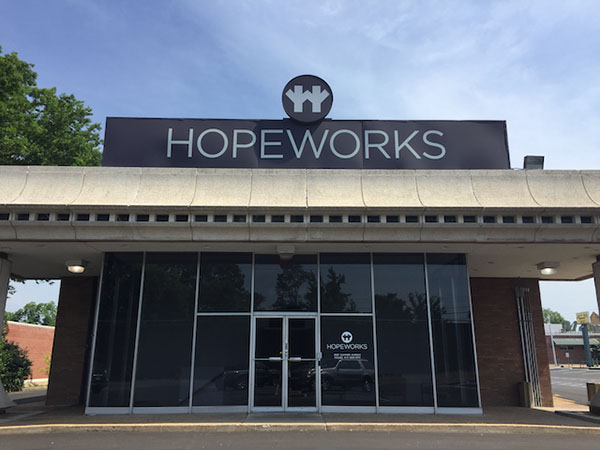 The new 12,000 square foot HopeWorks training facility in Memphis, Tennessee, made possible with a grant from the First Tennessee Foundation.
The facility was a strategic choice as it is accessible to the community, allows the organization to conduct free programs, and helps more families gain economic stability. HopeWorks has trained and assisted more than 1,200 students in career readiness and skill development, putting them on a pathway to meaningful employment.