By 2030, $30 trillion in investable assets will be possessed by baby boomers, much of it controlled by women, according to McKinsey & Company, which calls the growing number of wealthy women in the coming years "a critical inflection point for the financial services industry."1 Today, women control a third of U.S. household assets – approximately $12 trillion – and over the next decade, this share will grow. McKinsey believes that financial advisors who better serve women could soon increase their revenue by as much as one-third.
At First Horizon Advisors, the wealth management unit of the Memphis, Tenn. based bank with 417 banking centers in 12 states and $52 billion in assets under administration (AUA), women are critical to its strategy of advising and retaining clients.2 Their focus on women and wealth is dedicated to empowering women's financial lives and bringing them to the forefront of financial decisions in their households.
According to the U.S. Census Bureau, women's life expectancy is projected to reach 87.3 years by 2060, compared with 83.9 for men. Currently, women are changing financial advisors a startling 70% of the time after the death of their spouse, and leaders at First Horizon Advisors are training their associates to build relationships with both spouses to mitigate these dire statistics. Historically, advisors would usually address one partner but today, with an inclusive approach, advisors are better positioned to retain a relationship with a surviving partner.
"Asset retention is an incredibly important driver of our business long term," says Justin Barden, the managing director of advisor development for First Horizon Advisors. "When we see things like 70% of clients leaving an advisor after a death, it really shows a glaring red light as to why we need to take action to build relationships with all members of a household."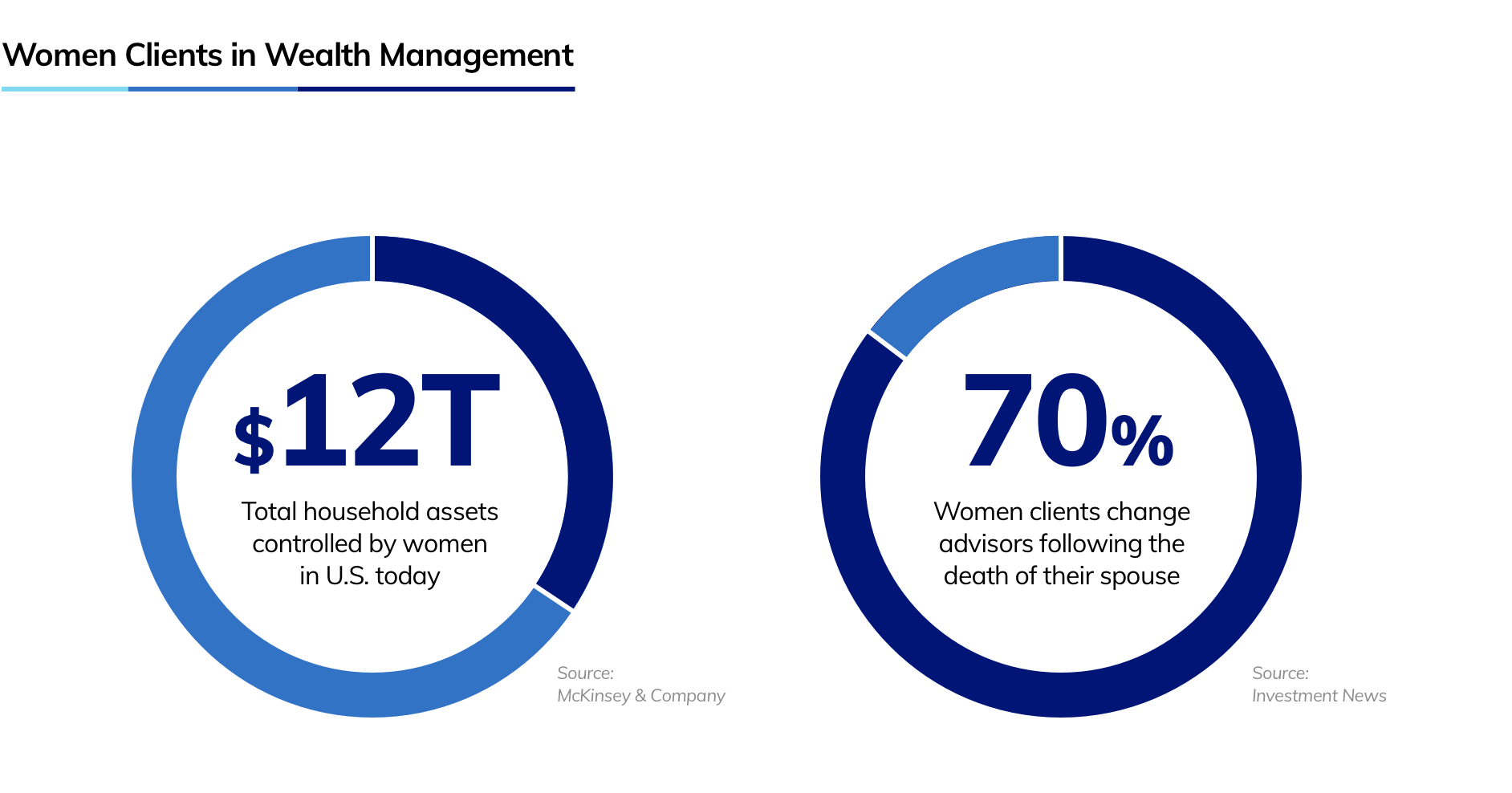 Training advisors to communicate better to both partners in a relationship
First Horizon wealth advisors go through a training process to understand the needs of both spouses in a relationship. The advisors have access to a platform that allows them to record video and share best practices with other associates through a mobile app, and the technology also gives the advisors the ability to record themselves role-playing various scenarios that they may face with a client.
The trainings also help advisors uncover unconscious biases to ensure that they are serving and building relationships with both partners. A Merrill Lynch study used eye-tracking software to discover that both male and female advisors spent over 60% of their time looking at the man during client meetings.3
One of First Horizon Advisors' most effective tools has been the use of client priority cards that start with the question, "What's most important to you?" Each spouse is handed a deck of the priority cards and asked to select the top three most important and three least important topics that they would like to discuss. The advisors then accompany clients through 27 financial-related challenges or issues that they may face.
"What we've found through this exercise is that in almost every scenario, the priorities and goals for each spouse are totally different," Barden says. "What may be important to one is not important to the other – and so it really allows our advisors to learn more about what the clients' goals and objectives are. But it also puts the clients in control of what their priorities are to just make sure that we stay on track with what's important to them."
Breaking through gender roles
Smart and systematic training for advisors, however, is not always enough to break through to both spouses. "If we've been working with a client for a number of years and the relationship with the advisor has been primarily centered around one member of the household, and the other member of the household has been ignored, the surviving spouse may not care to have a relationship with that advisor," Barden says. "So, it's really incumbent on the advisor in those situations to really make an effort to know the other spouse, and to try to repair some of those feelings that have been hurt over the years by being ignored."
Some couples do prefer to yield authority to one spouse when it comes to their wealth management. "I wouldn't say it's male- or female-dominated, but there are clients who say that it's not their role in the relationship," he says.
Supporting clients when they need it most
Providing intentional services for both spouses becomes most critical during life transition moments like a death. These are the most stressful periods for clients, but they also represent the greatest opportunities for advisors to step in and deliver value.
For example, a husband and wife operated a successful business for many years. When the husband unexpectedly died, one of the wife's first calls was to her advisor at First Horizon Advisors. She was concerned if a premium had been paid on a life insurance policy that was significant to their overall financial plan.
"Because the advisor had built a strong relationship with both spouses, he was able to deliver the information that she needed to give her peace of mind in the midst of her grief," Barden says. "She had been working with two other advisors, but after this experience, she consolidated all of her assets with us and encouraged her kids to do business with us, as well.
"We're going for strong relationships on both sides, so that when our clients do face that life transition moment, and they're in in that period of anxiety, we're one of the first calls they make."
Talk to an Advisor

Learn more about First Horizon Advisors Next Article
---
1 Women as the next wave of growth in US wealth management, by Mckinsey & Company.
2As of June 30, 2022.
3Study on the role gender plays in financial advisor-client relationships, by Merrill Lynch.